Falcon Oil & Gas has announced the successful completion of a 25-stage stimulation programme at the Amungee NW-2H ('A2H') well.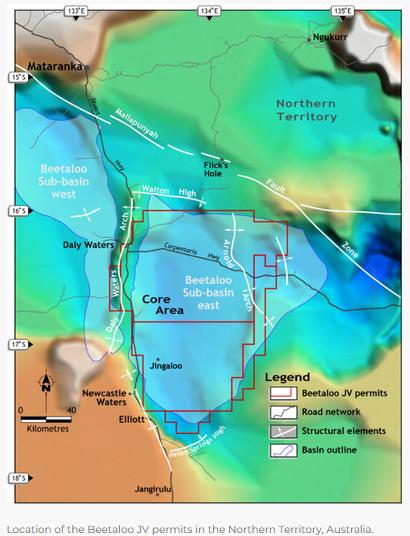 The A2H well was drilled to a total depth (TD) of 3,883 metres, including a 1,275-metre horizontal section within the Amungee Member B Shale (formerly known as the Middle Velkerri B-shale), in the Beetaloo Sub-Basin, Northern Territory, Australia with Falcon Oil & Gas Australia's joint venture partner, Tamboran (B1) Pty Limited in December 2022 with stimulation commencing in February 2023.
Stimulation Programme Details :
25 stages were successfully stimulated across a 1,020-metre horizontal section within the Amungee Member B Shale, with approximately 2,125 pound per foot of proppant placed along the completed horizontal section.
Proppant was placed using 5-½-inch casing and was based on modern US shale design, the design is anticipated to result in improved flow rates during the extended production test.
Stimulation fluid flow back will commence imminently and is estimated to take several weeks before the well is shut-in for installation of production tubing.
30-day initial production (IP30) flow rates are expected during the second quarter of 2023.
Philip O'Quigley, Falcon's CEO, commented:
'We are delighted to announce the completion of stimulation operations at the A2H well with our joint venture operator, Tamboran Resources. The programme was successfully executed during the Northern Territory wet season and we are now entering the very important phase of flow back operations, which have the potential to confirm production rates to support the joint venture moving to a multi-well pilot development programme in 2023/2024. We look forward to updating the market when these flow rates are available.'
Falcon Oil & Gas is an international oil & gas company engaged in the exploration and development of unconventional oil and gas assets, with the current portfolio focused in Australia, South Africa and Hungary. Falcon Oil & Gas is incorporated in British Columbia, Canada and headquartered in Dublin, Ireland with a technical team based in Budapest, Hungary.
Source: Falcon Oil & Gas