Genel Energy has announced its audited results for the year ended 31 December 2022.
Paul Weir, Chief Executive of Genel, said:
'Our production business generated record cash flow in 2022, building our significant financial resources and resulting in a net cash balance at the end of the year of over $200 million. The Company now has an exceptional opportunity to deploy its financial resources carefully to add new assets and grow and diversify our production business in order to improve the resilience and extend the line of sight on the funding of our established dividend programme.
Our capital allocation decisions for 2023 and beyond will be centred around that material, sustainable and progressive dividend programme, while protecting and maintaining the strength of our balance sheet. Our core business remains robust, funding our dividend from free cash flow in the mid-term and there is significant potential still remaining in the portfolio. We have an extremely busy 18 monthsahead that carries much potential, and we have a highly capable team in place that is fully focused on delivering on that potential.'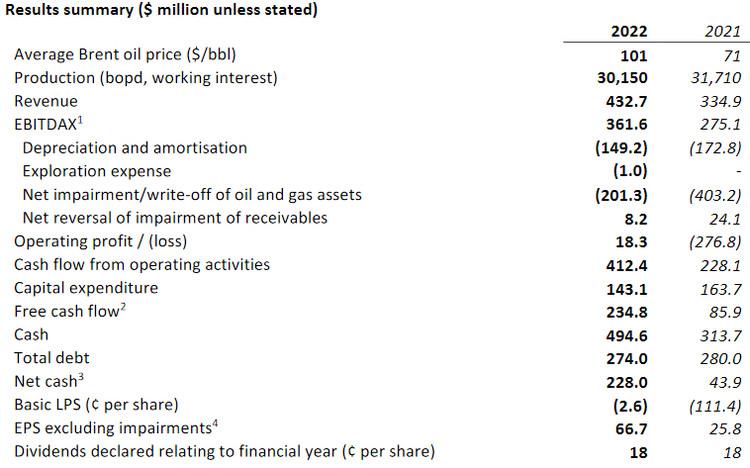 Highlights
Zero lost time incidents in 2022, with over three million hours now worked since the last incident
Another year of active drilling on the Tawke PSC and consistent reservoir performance resulted in average daily working interest production of 30,150 bopd (2021: 31,710 bopd)
Record free cash flow in 2022

High oil price and recovery of receivables helped drive free cash flow of $235 million (2021: $86 million)
Investment in production and appraisal at Sarta resulted in capital expenditure of $143 million (2021: $164 million)
Disappointing results at Sarta resulted in a reduction in reserves and an impairment of $126 million, with expiry of the Qara Dagh licence resulting in a write off of $78 million
Strong balance sheet provides opportunity to acquire and develop new assets

Significantly increased financial resources of $495 million ($314 million at 31 December 2021)
Net cash under IFRS of $228 million at 31 December 2022 ($44 million at 31 December 2021)
Total debt of $274 million at 31 December 2022 ($280 million at 31 December 2021)

Committed material, sustainable, and progressive dividend programme well established

Dividends paid in 2022 increased by 13% to 18¢ per share (2021: 16¢ per share) a total distribution of $50 million

Carbon intensity of 17.6 kgCO2e/bbl for Scope 1 and 2 emissions in 2022 (2021: 16 kgCO2e/bbl), below the global oil and gas industry average of 19 kgCO2e/boe
Outlook
Committed dividend funded by free cash flow for medium-term

The Board is recommending a final dividend of 12¢ per share (2022: 12¢ per share), a distribution of $33.5 million

Established dividend programme frames business and capital allocation decisions:

Production guidance unchanged at 27-29,000 bopd
2023 capital expenditure expected to be between $100 million and $125 million
Progress towards drilling a well in Somaliland
Genel continues to actively screen and work up opportunities to invest our cash to extend the line of sight on resilient cash flows that support our dividend programme into the long-term

Genel continues to invest in the host communities in which we operate, aiming to invest in those areas in which we can make a material difference to society
The London-seated international arbitration regarding Genel's claim for substantial compensation from the KRG following the termination of the Miran and Bina Bawi PSCs is progressing. The trial is scheduled for February 2024
Click here for full announcement
Source: Genel Energy