Highlights 2022
Produced Revenues (see Note 1 and 2 in the attached Q4 earnings release) of $817.2 million, compared to $590.0 million in 2021
Produced EBITDA of $446.7 million, compared to $320.2 million in 2021
Revenues and Other Income according to IFRS of $825.1 million, compared to $703.8 million in 2021, with an EBITDA of $454.6 million, compared to $434.0 million in 2021
EBIT (ex. impairments and other charges, net) according to IFRS of $117.0 million, compared to a loss of $32.0 million in 2021
Net loss of $32.8 million, compared to a net loss of $179.4 million in 2021
Cash flow from operations of $371.3 million, compared to $326.6 million in 2021
Cash and cash equivalents of $363.8 million, compared to $170.0 million in 2021
Net debt reduced by $319.7 million (34%), well positioned to refinance in 2023
Order book (related to future production) increase of 74%
Established a strong position in the carbon storage geoservices market with successful completion of four acquisition projects
~80% of PGS Imaging is performed in the Cloud at a significantly lower cost vs. on-premises compute capacity
'Our Produced Revenues increased close to 40% in 2022. We had a slow start to the year with approximately half the fleet idle, but from early Q2 our vessel utilization improved significantly, and the recovering seismic market is evident from our financial numbers.
Along with the structurally growing effort to optimize producing fields among larger energy companies, we experience a strong renewed focus on exploration, including frontier areas. This benefits both our contract and MultiClient acquisition activity and contributed to a strong increase of contract revenues and easier access to pre-funding for new MultiClient projects. The full year Produced Pre-funding level ended at 123% of MultiClient cash investments, above our targeted range.
MultiClient late sales were the second highest on record and almost 50% higher than in 2021. We have a geographically diverse, modern and very attractive MultiClient library, which we expect will continue to deliver very good results.
With increasing cash flow generation and strong shareholder support we have reduced our net debt significantly and we are well positioned to refinance during 2023.
We increased our order book by 74% in 2022 and it is now at the highest level since Q3 2014. The order book reflects increasing rates and higher activity and we expect both to continue on a positive trend in 2023.'
Rune Olav Pedersen, President and Chief Executive Officer
Outlook
PGS expects global energy consumption to continue to increase longer term with oil and gas remaining an important part of the energy mix, as the global energy transition evolves. Offshore reserves will be vital for future energy supply and support demand for marine seismic services. With high oil and gas prices, the seismic market is recovering. Russia's invasion of Ukraine has significantly increased the general focus on energy security and, combined with several years of low investment in new oil and gas supplies, has further increased oil and gas prices and investment pressures on energy companies.
Offshore investments in oil and gas exploration and production are expected to increase in 2023. The seismic acquisition market is likely to benefit from the higher exploration and production spending, and a limited supply of seismic vessels.
PGS expects full year 2023 gross cash costs to be approximately $550 million. The increase from 2022 is primarily due to the higher activity level and more capacity in operation.
2023 MultiClient cash investments are expected to be approximately $160 million.
Approximately 60% of 2023 active 3D vessel time is expected to be allocated to contract work.
Capital expenditures for 2023 is expected to be approximately $100 million.
The Order book (which now only includes revenues related to future production, ref. definition of the APM "Order book" in Appendix) amounted to $416 million on December 31, 2022. On September 30, 2022, and December 31, 2021, the Order book was $253 million and $239 million, respectively. The order book on a basis consistent with IFRS 15 (which includes deferred revenues relating to production already performed) totaled $517 million on December 31, 2022. Reference is made to Note 1. Comparable order book numbers can be found in Appendix.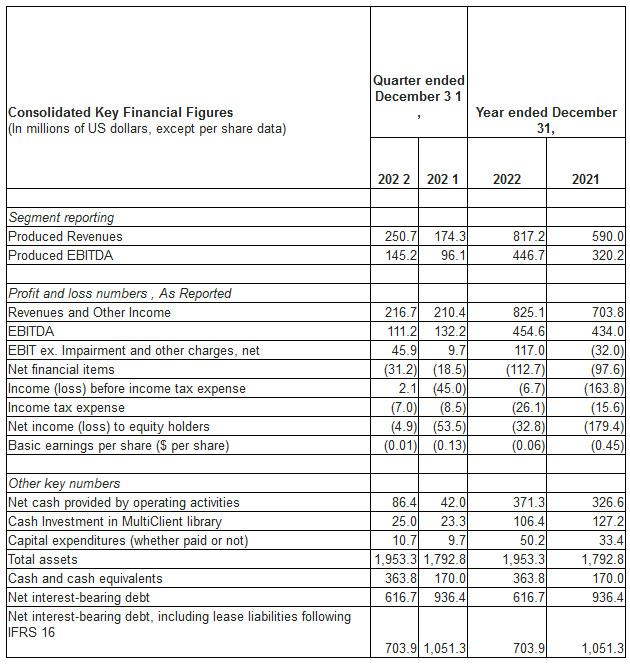 Source: PGS