Genel Energy has announced that payment has been received from the Kurdistan Regional Government ('KRG') relating to Tawke PSC sales during September 2022.
Genel's share of payments for September sales is expected to be as follows: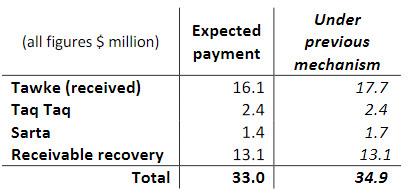 Sales for September have been priced by the KRG under a new pricing formula based on the realised sales price for Kurdistan blend crude ('KBT') during the delivery month, rather than on dated Brent, which was the basis in the past. KBT is the aggregation of oil transported through the Iraq-Turkey Pipeline and sold at Ceyhan.
The change in pricing formula results in an adverse impact on September realised price per barrel at field level of $11/bbl, with the impact on our working interest per barrel being $2/bbl. This has impacted our proceeds by $1.9 million for sales made in September. Should the new pricing mechanism have been in place across 2022, the impact of the change on realised monthly price per barrel at field level would have ranged between $6/bbl and $13/bbl, with the impact on working interest between $1/bbl and $3/bbl.
The table below summarises the KBT blend price stated by the KRG for the months from September 2022 to January 2023, together with the impact on our working interest $/bbl revenue. The netback figure continues to include adjustments for transportation costs and crude quality, with the quality adjustment now reduced as the crude quality of KBT is lower than Brent.

Pending settlement of the above receivable recovery payment, there is no further payment to be received under the KRG payment mechanism for past receivables.
Source: Genel Energy