PETRONAS has signed Production Sharing Contracts (PSCs) for three clusters of Discovered Resource Opportunities (DRO) marketed under the Malaysia Bid Round (MBR) 2022.
The A Cluster was awarded to Ping Petroleum and Petroleum Sarawak Exploration & Production (PSEP), while Dialog Resources and PSEP won the bid for the Baram Junior Cluster. Both clusters are located off the coast of Sarawak.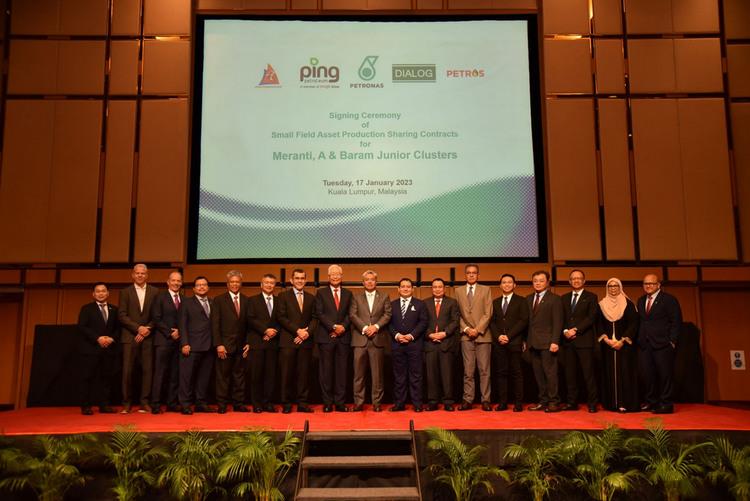 Photo: PETRONAS EVP & CEO of Upstream, Datuk Adif Zulkifli (centre) and PETRONAS SVP of MPM, Mohamed Firouz Asnan together with signatories and representatives from Ping Petroleum, PSEP, Dialog Resources and Duta Marine at the PSCs signing ceremony.
The Meranti Cluster, located offshore Peninsular Malaysia, was awarded to Ping Petroleum which is in partnership with Duta Marine.
All three PSCs were awarded under the Small Field Asset (SFA) terms introduced in 2020.
The PSCs were signed by PETRONAS Senior Vice President of Malaysia Petroleum Management (MPM), Mohamed Firouz Asnan and witnessed by PETRONAS Executive Vice President and Chief Executive Officer of Upstream, Datuk Adif Zulkifli.
Mohamed Firouz said, 'As MPM is entrusted to maximise the long-term value of Malaysia's oil and gas resources, we are pleased to see that DRO, which are perceived to be challenging, taken up by investors following the introduction of the SFA PSC terms.
We take this opportunity to welcome Ping Petroleum to Malaysia's upstream industry and look forward to the company replicating its successes abroad in monetising small field assets, here in our shallow water. Also, congratulations to Dialog Resources on its debut as an operator while PSEP and Duta Marine continue to expand their portfolio in Malaysia. The signing of the 3 PSCs validates the attraction of Malaysia as a preferred choice for potential investors looking for advantaged energy as we act positively on their feedback.' he added.
In the coming weeks, PETRONAS will be signing new PSCs with the MBR 2022 winning bidders for the exploration opportunities.
The MBR is an annual licensing round offering diverse upstream opportunities to potential investors and includes exploration acreages, DRO and late life producing assets across Malaysia.
The MBR 2023 is scheduled to be held on 15 February 2023.
For more information on oil and gas investment opportunities in Malaysia, please visit https://www.petronas.com/mpm/
Source: PETRONAS