Matador Resources has announced that a wholly-owned subsidiary of Matador has entered into a definitive agreement to acquire Advance Energy Partners Holdings, including certain oil and natural gas producing properties and undeveloped acreage located in Lea County, New Mexico and Ward County, Texas. The consideration for the Advance Transaction will consist of an initial cash payment of $1.6 billion, subject to customary closing adjustments, plus additional cash consideration of $7.5 million for each month during 2023 in which the average oil price as defined in the securities purchase agreement exceeds $85 per barrel. Advance is a portfolio company of EnCap Investments.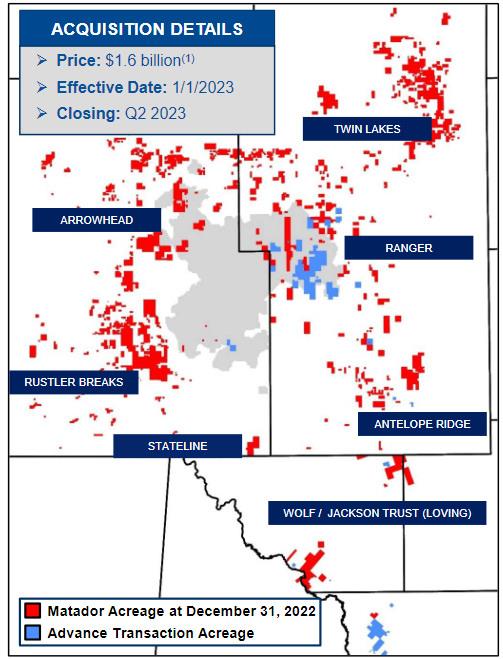 The Advance Transaction is subject to customary closing conditions and is expected to close early in the second quarter of 2023 with an effective date of January 1, 2023. A short slide presentation summarizing the Advance Transaction is also included on the Company's website at www.matadorresources.com on the Events and Presentations page under the Investor Relations tab. Matador's management will host a live conference call to discuss the Advance Transaction on Tuesday, January 24, 2023 at 10:00 am Central Time.
Joseph Wm. Foran, Matador's Founder, Chairman and CEO, commented, 'Matador is very excited by this strategic bolt-on opportunity as well as the opportunity to work with Advance and EnCap. We view this transaction as a unique value-creating opportunity for Matador and its shareholders. We evaluated this transaction based on rock quality, the strong existing production and cash flow profile, the potential reserves additions, the high-quality inventory, the available midstream opportunities and the strategic fit within our existing portfolio of properties. We intend to fund the Advance Transaction with a combination of cash on hand, free cash flow prior to closing and borrowings under our credit agreement, under which we expect to increase our elected commitment in connection with this transaction. Importantly, this acquisition should not significantly impact Matador's leverage profile, as we expect to maintain a pro forma leverage ratio below 1.0x throughout 2023. In late November 2022, as part of the fall 2022 redetermination process, Matador's lenders completed their review of the Company's proved oil and natural gas reserves at June 30, 2022. As a result, the borrowing base under our credit agreement was increased by 13% from $2.0 billion to $2.25 billion.'
Transaction Highlights
Expected to generate forward one-year Adjusted EBITDA1 of approximately $475 to $525 million at strip prices as of mid-January 2023, which represents an attractive purchase price multiple of 3.2x
Accretive to relevant key financial and valuation metrics
Significant increase in pro forma drilling locations in primary development zones
Provides upside related to potential midstream opportunities for Pronto Midstream, LLC ("Pronto"), Matador's wholly-owned midstream subsidiary, which operates in this area of Lea County, New Mexico
PV-10 (present value discounted at 10%)2 at December 31, 2022 of $1.92 billion on total proved oil and natural gas reserves utilizing strip pricing as of mid-January 2023, which is in excess of the $1.6 billion purchase price

PV-102 of proved developed (PD) oil and natural gas reserves at December 31, 2022 of $1.14 billion, or approximately $45,600 per flowing BOE, utilizing strip pricing as of mid-January 2023

Preserves Matador's strong balance sheet with leverage expected to remain below 1.0x, allowing Matador to maintain operational and financial flexibility while continuing to return value to shareholders through its fixed quarterly dividend
Asset Highlights
Estimated production in the first quarter of 2023 of 24,500 to 25,500 barrels of oil and natural gas equivalent ("BOE") per day (74% oil)
Approximately 18,500 net acres (99% held by production) in the core of the northern Delaware Basin, most of which is strategically located in Matador's Ranger asset area in Lea County, New Mexico near Matador's existing properties
406 gross (203 net) horizontal locations identified for future drilling, including prospective targets throughout the Wolfcamp, Bone Spring and Avalon formations

Include 21 gross (20 net) drilled but uncompleted wells ("DUCs") expected to be turned to sales in the second half of 2023
Include 206 gross (174 net) operated locations (84% working interest) and 200 gross (29 net) non-operated locations (15% working interest)
Locations are consistent with Matador's methodology for estimating inventory with typically three to four (or fewer) locations per section, or the equivalent of 160-acre (or greater) spacing, in all prospective completion intervals
38 gross (35 net) additional upside locations in the Wolfcamp D formation
Conducive to drilling longer laterals with an expected average lateral length for operated locations of approximately 9,400 feet

Advance is currently utilizing one drilling rig to drill 21 gross (19 net) wells in the northern portion of Matador's Antelope Ridge asset area in Lea County, New Mexico, but these wells are not expected to be turned to sales until early 2024
Estimated drilling, completing and equipping ("D/C/E") capital expenditures of $300 to $350 million in 2023 based upon one drilling rig operating on the Advance properties,

Includes anticipated completion costs for the 21 gross DUCs noted above
Approximately $225 to $275 million is expected to be incurred between the anticipated closing date and year end 2023
Matador estimates total proved oil and natural gas reserves associated with these properties of approximately 106.4 million BOE (73% oil) at December 31, 2022. PV-102 of the proved oil and natural gas reserves of these properties at December 31, 2022 was approximately $2.86 billion using the same unweighted arithmetic average first-day-of-the-month prices for the previous 12-month period being used to value the Company's reserves at December 31, 2022, which are $90.15 per barrel of oil and $6.36 per MMBtu of natural gas. Matador expects to add future proved reserves and reserves value as a result of the development of these properties going forward. These reserves estimates were prepared by Matador's engineering staff and audited by Netherland, Sewell & Associates, Inc., independent reservoir engineers.
Mr. Foran further commented, 'We have carefully managed and strengthened our balance sheet over time in order to be in a position for a special opportunity like this. The specific location and quality of these select assets, the strong existing cash flow, the multi-pay potential, the cost savings associated with developing these assets via longer laterals on multi-well pads with centralized facilities, the midstream synergies with Pronto and the held-by-production status of the acreage were key features that attracted us to this unique opportunity and should significantly enhance our already strong Delaware Basin portfolio. This acquisition also provides us with increased operational scale in the Delaware Basin, which we expect will improve our overall rates of return and unit-of-production costs.
'Gary Petersen is one of the Founders and Managing Partners of EnCap. I have known Gary for many years. Gary is one of the people I have most admired and respected in our industry. We have always wanted to do a deal like this together. The relationship with Gary was critical to the smooth negotiation of this transaction, and I want to thank Gary, the other individuals at EnCap, the Advance team and the Matador team for their hard work and integrity in reaching a deal that is a win-win for both parties. We also appreciate the support of our other friends and shareholders, and we look forward to the additional opportunities and free cash flow that this new acreage will provide for Matador.'
Advisors
Baker Botts LLP served as legal advisor to Matador for the transaction. Vinson & Elkins LLP served as legal advisor and JP Morgan served as financial advisor to Advance.
Click here for Presentation: Matador Acquisition of Advance Energy
Source: Matador Resources