Following the arrival (or provision) of the Neptune, an FSRU (Floating Storage & Offloading Unit), in December 2022, TotalEnergies has announced the start-up of the Deutsche Ostsee LNG import terminal for liquefied natural gas (LNG). This project will consolidate TotalEnergies' position as the world's third largest LNG player and Europe's leading regasification player.
Located on the Baltic Sea coast in northeast Germany, the Port of Lubmin took delivery of the country's first floating import terminal for liquefied natural gas in December 2022. Chartered by TotalEnergies, the Neptune FSRU is now being operated by Deutsche ReGas.
FSRUs: flexible solutions for quickly scaling up LNG import capacities
FSRUs - floating storage regasification units - are water-based LNG terminals. Ships carrying liquefied natural gas (LNG) moor alongside the FSRU and unload their cargo, which is stored in liquid format before being regasified. These terminals are capable of quickly transporting LNG using few non-existing infrastructures, i.e. a jetty and a connection to a high-pressure pipe for unloading the gas. The regasified LNG is then exported to onshore facilities and injected into the gas transmission network.
The Neptune boasts an annual regasification capacity of 5 billion cubic meters of gas. The terminal isnow operational and will cover 5% of the country's annual consumption. The Company holds a regasification capacity of 2.6 billion cubic meters of gas a year within the terminal.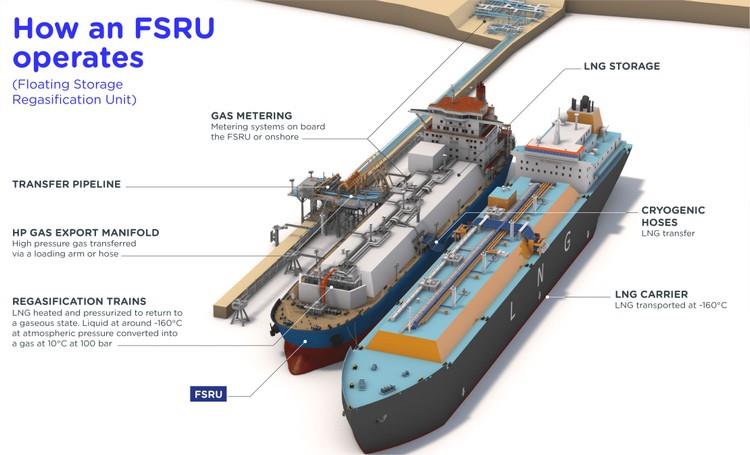 Our project in Germany
The commissioning of the Deutsche Ostsee LNG import terminal for liquefied natural gas (LNG) will reinforce the Company's status as one of the main LNG suppliers in Germany. As a testament to the project's importance, the site's inauguration was attended by German Federal Chancellor Olaf Scholz. This project, to which TotalEnergies is contributing a floating storage and regasification unit (FSRU) and supplying LNG, is helping secure the country's energy supplies by covering approximately 5% of German demand.
Stéphane Michel President Gas, Renewables & Power at TotalEnergies, said: 'Europe is facing a historic gas supply crisis caused by the sharp drop in flows from Russia. Since the beginning of this crisis, TotalEnergies has mobilized its LNG portfolio, which is broad and flexible, to send available LNG to Europe and to use its 18 Mt/y regasification capacity. Thanks to the start-up of the Lubmin terminal, TotalEnergies will be able to add to this effort and increase its imports to Europe to over 20 Mt/y, or about 15% of the continent's regasification capacity.'
Source: TotalEnergies