PT Pertamina (Persero) has demonstrated its commitment to becoming a leading national energy company driving decarbonization programs in Indonesia. The commitment through collaboration with ExxonMobil is realized for the Carbon Capture Storage (CCS) hub development in the Java Sea with a capacity of up to 3 gigatons of CO2 and an investment value exceeding USD 2 billion.
To realize this plan, Pertamina and ExxonMobil signed an Amendment to the Principles of Agreement, continuing the agreement made at the G20 event last November 2022. The signing was carried out by Nicke Widyawati, President Director of Pertamina; Wiko Migantoro, President Director of Pertamina Hulu Energi; and Irtiza Sayyed, President of Low Carbon Solutions, ExxonMobil Asia Pacific Pte. Ltd.
In this agreement, Pertamina and ExxonMobil agreed to continue their collaboration for the CCS Hub evaluation in the western part of the Java Sea, specifically in the Asri and Sunda Basin. The CCS Hub in this location is expected to offer significant geological storage, capturing and injecting CO2 from domestic and regional industries.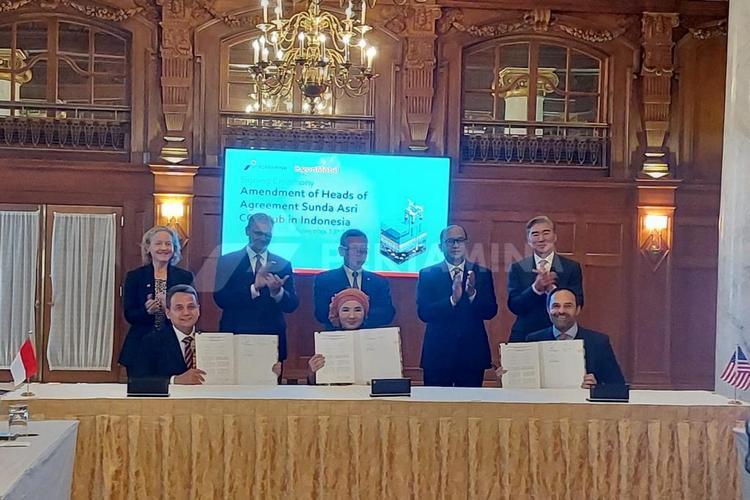 The signing ceremony, on Monday, November 13, 2023, in Washington DC, was witnessed by the Interim Coordinating Minister for Maritime Affairs and Investment, Erick Thohir; Minister of Energy and Mineral Resources, Arifin Tasrif; and the U.S. Ambassador to the Republic of Indonesia.
Interim Coordinating Minister for Maritime Affairs and Investment of the Republic of Indonesia, Erick Thohir, stated, 'The agreement signed today marks a significant step in Indonesia's journey as a leader in emissions reduction. The cutting-edge technology behind the CCS Hub will not only reduce emissions and promote low-carbon industries, but also create jobs and attract investment.'
After the signing of the MoU, Jodi Mahardi, Deputy of Maritime and Energy Sovereignty Coordination, stated, 'The signed document is an essential part of the lengthy process the Indonesian government has undertaken to build the CCS ecosystem. With this agreement, it is evident that all components in Indonesia, especially from the government's perspective, are ready to harness Indonesia's CCS potential for the low-carbon industries advancement, increased investment, and creating new job opportunities for the Indonesian people.'
Jack P. Williams, Senior Vice President, ExxonMobil Corporation expressed, 'We are proud to collaborate with Pertamina and the Indonesian Government on these transformative projects. Together, we could reduce emissions and drive economic growth in Indonesia and the entire region.'
Nicke Widyawati, President Director of Pertamina, explained that Pertamina continues to develop decarbonization programs, including the CCS Hub development, built in collaboration with strategic partners such as ExxonMobil.
According to Nicke, this project has the potential to store CO2 in strategic areas, with the CCS Hub development in the Java region, close to various industries. This hub will provide access to geological storage in saline aquifers, capable of accommodating at least three gigatons of carbon dioxide (CO2) from domestic and regional carbon-intensive industries.
'This project will enable Indonesia to become a regional leader in industrial decarbonization due to its enormous carbon storage potential. Hopefully, Indonesia can become the CCS center in Southeast Asia in the future,' Nicke added.
Pertamina, as a leading company in the energy transition, is committed to supporting the Net Zero Emission 2060 target by continuously promoting programs that directly impact the Sustainable Development Goals (SDGs) achievement. All these efforts align with Environmental, Social & Governance (ESG) implementation across all Pertamina's business lines and operations.
Source: Pertamina