Highlights:
Hartshead co

ntinued to progress

the

Phase I development

of the Anning and Somerville

gas fields with the award of Platform and Subsea Front

-

End Engineering Design (FEED)

contracts to Petrofac

.

TelosNRG

appointed to advise on the Phase I Development Field Development Plan (FDP).

Evaluation and securing of vessels for planned seabed and environmental geophysical and

geotechnical surveys conducted.

C

omplet

ion of

the initial phase of a partial divestment

process with interest from a

number of potential industry partners, a sub

-

set of which entered into late

-

stage due

diligence and negotiations

.

Applications for the UK 33

rd

Offshore Licensing Round commenced and progressed.

Appointment of

Steve McCraith

a

highly experienced Wells Manager.

Cash and cash equivalents at the end of the quarter of

A$8.

9

million.
Commenting on the Quarter, CEO of Hartshead, Chris Lewis, said:
'Firstly I'd like to welcome Steve McCraith on board as Wells Manager, and with his valuable input already having a significant impact on the wells work required for our Phase 1 development, I look forward to seeing this progress under his expert management and guidance.
Progress on Phase I Field Development continues apace with ever growing momentum. Engineering studies for the selected platform and pipeline development concepts have been awarded, which, once completed, will form the technical basis for tendering for the Platform construction and Pipeline laying contracts.
The partial divestment process has achieved a significant milestone, with the initial phase complete and the process now entering into late-stage due diligence and negotiations. Discussions with potential partners continue and I look forward to providing a further update in the near future.
We continue our work with Shell with the engineering study for the offtake route ongoing as we continue to further define the various engineering aspects of the tie-in and the offshore and onshore facilities. I would like to thank Petrofac and Shell for their continued support in this work.
Finally, having the UK's 33rd Licensing Round launched on the 7th of October with a little over three months to prepare and submit applications was an interesting start to the Quarter. Although such tight timelines and a particularly busy festive period were unexpected, as ever, the Hartshead Team put their collective shoulders to the task and we are very pleased with what has been submitted. Once again, the Team has my gratitude for all their hard work, particularly over the holiday period.
I would also like to thank shareholder for their ongoing support to date and we look forward to creating further value throughout 2023 and beyond.'
SEAWARD PRODUCTION LICENSE P2607, OFFSHORE UNITED KINGDOM (HARTSHEAD RESOURCES 100% AND OPERATOR)
Hartshead Resourceshas provided an overview of the Company's quarterly activities for the period ending 31 December 2022 (Quarter, Reporting Period)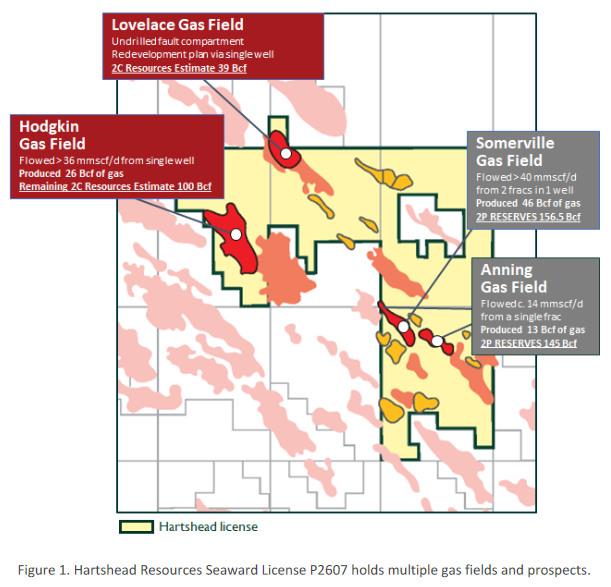 The Company's Seaward Production License P2607 covers five contiguous blocks (48/15c, 49/6c, 49/11c, 49/12d and 49/17b) located in the Southern North Sea (Figure 1) with 301.5 Bcf(1) of independently audited 2P Reserves and 139 Bcf(2) of 2C Contingent Resources within four existing
discoveries.
PHASE I FIELD DEVELOPMENT – ANNING AND SOMERVILLE GAS FIELDS
Award of Platform and Subsea Engineering Design (FEED) contracts to Petrofac
During the Reporting Period, Petrofac Facilities Management Limited (Petrofac) was awarded two contracts in respect of (i) the Platforms FEED contract for the Anning and Somerville unmanned minimum facilities jackets and topsides and (ii) the Subsea FEED contract for the interconnecting subsea-pipelines connecting to the Shell Exploration & Production UK Limited (Shell) Corvette export system with onward gas transport to the Leman-A complex and associated risers via the Anning platform. The award of the FEED contracts signals a significant milestone as the Phase I development progresses from Concept Select into Concept Define, prior to entering the execution phase at Final Investment Decision (FID) which is expected to occur later in 2023.
Appointment of TelosNRG Limited
TelosNRG Limited (Telos), a UK based consultancy that provide technical, QHSE and management advisory services across the energy and renewables sectors, was appointed during the Reporting Period to assist and advise Hartshead with the preparation of the Phase I Field Development Plan (FDP), which is expected to be submitted to the NSTA during Q1 2023.
Environmental Geophysical and Geotechnical Surveys
The evaluation of contracts for the Phase I development geotechnical and geophysical surveys with a view to securing vessels for deployment in 2023 was also conducted during Q4 2022. The main objectives of the surveys were to provide the Company with an interpretation of the seabed geomechanical and soil conditions at the Anning and Somerville field locations and along the pipeline route. The results of the geotechnical and geophysical surveys will form a critical component of the Environmental Statement, with an understanding of the seabed conditions at the Phase I field locations and along the pipeline route also required for completing the subsea and platform FEED design assumptions.
Investment Process for Industry Partnering
Following the appointment of LAB Energy Advisors, announced in June 2022, an update was provided during Q4 2022, with LAB advising the Company on industry partnering for its Phase I development via a partial divestment process.
The Company reported that it has completed the initial phase of a partial divestment process with interest from a number of potential industry partners, a sub-set of which had entered the next stage of the process involving further due diligence and negotiations. The objective of the process is to secure an industry partner and funding for the development of the Phase I Anning and Somerville gas fields.
The Company remains confident of a successful outcome to the LAB Energy farm-out/partnering process given the high level of interest shown in Hartshead's Phase I assets, however uncertainty inevitably remains with respect to ultimately securing an industry partner, subject to continuing discussions and negotiations, which the Company hopes to successfully conclude at the end of Q1 2023.
Appointment of Highly Experienced Wells Manager
In November 2022, the Company announced the appointment of Stephen McCraith as Wells Manager within its UK Southern Gas Basin Phase I development project management team.
As a highly experienced Well Engineering and Drilling Manager with over 33 years' UK North Sea experience, Stephen has an impressive track record of delivering major drilling programmes in the upstream oil & gas sector and brings a wealth of operating experience to Hartshead as the Company enters the Front-End Engineering Design (FEED) stage of the Phase I development of the Anning and Somerville gas fields.
The majority of Stephen's career was spent with Shell International and Shell UK Exploration and Production in Rig Superintendent and Drilling Operations Manager roles, where he was responsible for all types drilling operations, including exploration and development drilling, infill drilling, well testing, coiled tubing operations and other well intervention services.
Stephen has also worked for several other UK North Sea Operators and service companies, including Talisman Energy, KCA Deutag Drilling and Premier Oil/Harbour Energy, in senior Well Engineering roles, where he had responsibility for delivery of their complete UK North Sea operated and non-operated drilling programmes, including the recent Tolmount field development in the UK Southern Gas Basin. As a highly experienced oil & gas professional with in-depth knowledge of offshore drilling operations, Stephen is familiar with all aspects of HSEQ and management systems relating to well engineering activities, well integrity and assurance, which will be critical to our Phase I development well planning activities on the Anning and Somerville gas fields.
Stephen holds a BSc(Hons) degree in Exploration & Mining Geology from University College Cardiff, an MSc degree in Drilling Engineering from Robert Gordon University, Aberdeen, and is a Chartered Engineer.
NEW VENTURES – UK 33RD OFFSHORE LICENSING ROUND
Hartshead confirmed that the Company would participate in the UK 33rd Offshore Licensing Round announced by the NSTA with a closing date of 12 January 2023 for the submission of applications. The results of the licensing round and awards are expected to be announced later in 2023.
(1) Reserves estimates are from ERC Equipoise Limited, Independent Competent Persons Report (CPR) entitled 'Hartshead Resources NL Somerville and Anning Competent Persons Report' dated June 2022. See Qualified Persons Statement for reserves reporting notes.
(2) Hartshead Resources management estimates.
Source: Hartshead Resources