UK Oil & Gas has announced that a new Competent Person's Report ('CPR') has been completed on the Horndean field (UKOG 10% non-operated interest) by Dallas, Texas based DeGolyer & MacNaughton ('D&M'), a globally recognised oil & gas reserve estimation and valuations consultancy. The CPR's findings are summarised in Tables 1 and 2 below.
Highlights: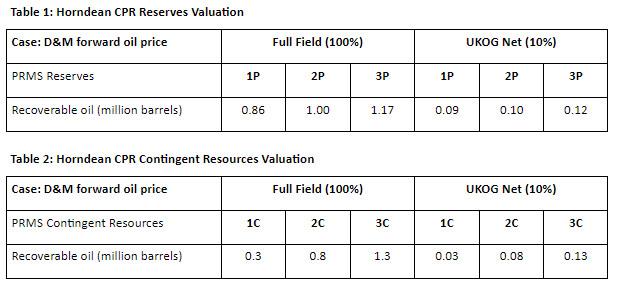 D&M completes CPR illustrating the present value of UKOG's 10% non-operated share of the Horndean oil field, located 10 miles north of Portsmouth, Hampshire.
179,300 barrels aggregate net UKOG 2P reserves + 2C contingent resources.
£287,000 UKOG net share of oil sales revenues in 2022.
Installation of new power-efficient surface pumps underway, expected to improve production rates and lower operating costs, potentially increasing profitability in 2023.
The CPR's estimates of reserves and contingent resources are summarised in Tables 1 and 2 below.
The CPR was prepared in accordance with the requirements and standards of the Petroleum Resources Management System ("PRMS") of the Society of Petroleum Engineers and the sections of the CPR relevant to Horndean will be available on UKOG's website (www.ukogplc.com).
As of 31 December 2022, UKOG's 10% share of mid case 2P Reserves in the Horndean field is assessed at 99,500 barrels, with its share of mid case 2C Contingent Resources estimated at 79,800 barrels, an aggregate total of 179,300 UKOG net.
In 2022, UKOG's net share of Horndean production revenues was £287,000, with net earnings after costs of £136,000.
Total gross field production in 2022 averaged 101 barrels of oil per day despite significant well servicing work on three of the four production wells. New replacement surface pumps are now being installed and, consequently, it is expected that this will lead to increased production rates, lower electrical power consumption and a corresponding increase in 2023 field earnings. The operator, IGas plc, expects production rates to return to around 108 barrels of oil per day (gross) in 2023 when the new pumps are online.
Stephen Sanderson UKOG's Chief Executive commented:
'Although UKOG has a modest interest in Horndean, the CPR amply demonstrates that it continues to provide valuable earnings for the Company. We concur with the operator that the new pump upgrade should improve production rates, lower operating costs and, if oil prices remain around their current levels, potentially make Horndean more profitable than in 2022.'
Source: UKOG