energy-pedia
news, information and opportunities
latest headlines
Ophir Energy has announced the recommended acquisition of Salamander Energy. Combining Ophir and Salamander will create a balanced African and South East Asian operating platform, designed to deliver Ophir's exploration-led strategy across both regions. ... more ...
AIM-listed Rose Petroleum has received and signed a unit operating agreement for its Cisco State Unit from the State of Utah. The Cisco State Unit, which covers an area of 10,888.95 acres, is held by Rose as lease land and had originally been scheduled to expire. ... more ...
AIM-listed Eland Oil & Gas, an oil & gas production, development and exploration company operating in West Africa with a principal focus on Nigeria, has announced an operations and financing update. ... more ...
Petrofac is on track to deliver full year 2014 net profit towards the lower end of the US$580 million to US$600 million range provided in previous guidance. ... more ...
LGO has announced that well GY-667, the fourth well of the current 30 well development programme, has been successfully recompleted in the upper C-sand reservoir. The well is currently flowing under its own pressure at a stabilized rate of 350 bopd. ... more ...
Angola: Statoil calls time-out in Kwanza exploration drilling program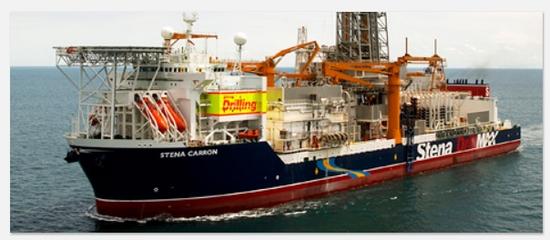 Statoil has decided to cancel the Stena Carron rig contract after fulfilling the work commitments in the Statoil-operated Blocks 38 and 39 in the Kwanza basin offshore Angola. The rig contract will cease with effect from 21 November 2014.
Statoil's first well results from the area have been disappointing and although the company still sees remaining prospectivity in the basin and on the Statoil acreage, more time is needed to evaluate the well results and mature new prospects before deciding on future activities. The first two Statoil-operated wells in this pre-salt play, Dilolo and Jacaré, have been drilled safely and very efficiently. These two wells also fulfil the drilling commitments on these two blocks. The Jacaré well in Block 38 has now been plugged and abandoned. Statoil is participating in eight commitment wells across five blocks in the Kwanza basin. So far four wells have been completed and one well is ongoing in Block 40 operated by Total.
The costs of terminating the operations and associated services including the Stena Carron rig contract will be onerous contract and expensed in fourth quarter amounting to approx. USD 350 million. The 2014 guiding for organic exploration expenditures of USD 3.5 billion remains, including the Jacaré well cost in Block 38, which will be expensed in fourth quarter. In addition it is expected that the signature bonus in Block 38 will be impaired.
Source: Statoil
Sign up for free daily newsletter
---

energy-pedia news is a FREE news service written and edited by E&P professionals for E&P professionals. We don't just report the news, we give you the technical background as well, with additional information derived from our unique energy-pedia opportunities service. Click here to sign up.
---
energy-pedia opportunities

energy-pedia opportunities currently includes comprehensive details of over 1100 upstream opportunities along with historic details of over 2,000 completed deals. Included are licensing details, current, future and historic, along with details of 1000's of corporate and company deals. Also included are company profiles of over 1,500 upstream oil companies worldwide.
energy-pedia opportunities provides intuitive, interactive, real time online information updated on the hour, helping established oil companies to maintain and develop their upstream portfolios while enabling start-up companies plan and build successful worldwide businesses.
For further information click here: energy-pedia opportunities
news by region
energy-pedia world map movie
back to top