energy-pedia
news, information and opportunities
latest headlines
VAALCO Energy on March 2, 2015, spudded the post-salt Kindele-1 well, its first exploration well on Block 5 offshore Angola. The Kindele-1 well will test a fault block adjacent to the Mubafo discovery which tested oil from the Mucanzo sand section within the Pinda group formations. ... more ...
Polarcus has received an award from an undisclosed client for a 3D marine seismic project offshore Egypt utilizing Polarcus' RightBAND(TM) technique for broadband data acquisition. The project will commence in Q1 2015 and is expected to run for approx. 50 days. ... more ...
WHL Energy has provided an update to the Prospective Resources in its Seychelles acreage following interpretation of a preliminary PreSTM volume of the Junon 3D seismic survey. Detailed interpretation of the Junon PreSTM 3D data by WHL Energy has firmed up key prospects in the Junon area. ... more ...
The U.S. Senate failed on Wednesday to override President Barack Obama's veto of legislation approving the Keystone XL oil pipeline, leaving the controversial project to await an administration decision on whether to permit or deny it. ... more ...
Strata Oil & Gas announced Wednesday that it has received approval from the Crown to proceed with its Oil Sands Exploration plan on its Cadotte/Cadotte-West land blocks in the Peace River region of Alberta ... more ...
UK: BP to sell stake in major North Sea gas pipeline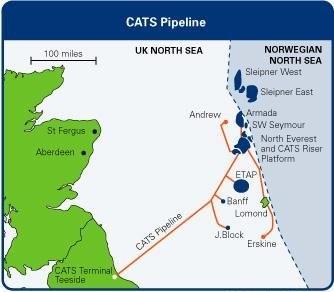 Oil major BP has put up for sale its stake in one of Europe's biggest natural gas pipelines in the North Sea as part of its ongoing asset disposal programme. BP holds a 36 percent interest in the 404-km subsea Central Area Transmission System (CATS) that runs through the central sector of the British North Sea. The pipeline pumps up to 1.7 billion cubic feet of gas a day from UK North Sea fields.
'In December, BP announced the intent to sell our equity in the CATS business,' the company said in a regulatory filing on Tuesday.
Last June, British peer BG Group announced the sale of its 62.78 percent interest in the CATS pipeline for nearly $1 billion to the Antin Infrastructure Partners fund. The pipeline has a transportation capacity of 293,000 barrels of oil equivalent per day (boed) to a natural gas terminal at Teesside in northeast England. Average throughput in 2014 was 134,000 boed.
BP has agreed the sale of around $5 billion of assets as part of a $10 billion disposal programme in 2014 and 2015.
See related article: BG Group in agreement to sell interest in CATS pipeline & infrastructure for £562m (June 17 2014)
Source: Reuters via Yahoo! Finance
Sign up for free daily newsletter
---

energy-pedia news is a FREE news service written and edited by E&P professionals for E&P professionals. We don't just report the news, we give you the technical background as well, with additional information derived from our unique energy-pedia opportunities service. Click here to sign up.
---
energy-pedia opportunities

energy-pedia opportunities currently includes comprehensive details of over 1100 upstream opportunities along with historic details of over 2,000 completed deals. Included are licensing details, current, future and historic, along with details of 1000's of corporate and company deals. Also included are company profiles of over 1,500 upstream oil companies worldwide.
energy-pedia opportunities provides intuitive, interactive, real time online information updated on the hour, helping established oil companies to maintain and develop their upstream portfolios while enabling start-up companies plan and build successful worldwide businesses.
For further information click here: energy-pedia opportunities
news by region
energy-pedia world map movie
back to top