energy-pedia
news, information and opportunities
latest headlines
Total has signed an agreement with Exxaro Resources for the sale of its 100% stake in Total Coal South Africa (TCSA), its coal-producing affiliate in South Africa. The consideration for the transaction is $472 million. ... more ...
Oil giant BP has voiced fears that any further international sanctions imposed on Russia could have an 'adverse impact' on the company. It said the plan to tighten economic restrictions by the west, over the ongoing Ukraine crisis, may harm its relationship and investments in Russia's state-owned oil firm Rosneft. ... more ...
Savannah Petroleum, the Niger focused oil and gas company, has announced its intention to proceed with an initial public offering and to apply for admission of its ordinary shares to trading on the AIM of the London Stock Exchange. ... more ...
Antrim Energy has announced the results of a prospective resources report for the Company's interests in Frontier Exploration Licence 1/13 ('FEL 1/13') which includes Blocks 44/4, 44/5 (part), 44/9, 44/10, 44/14 and 44/15 (the 'Skellig Block') offshore Ireland. ... more ...
BP today announced its financial results for the second quarter of 2014. Underlying replacement cost profit for the quarter of 2014 was $3.6 billion, 34% higher than the $2.7 billion reported for the same period in 2013 and 13% higher than the $3.2 billion result for the first quarter of 2014. ... more ...
UK launches 14th onshore licensing round
Ministers today (July 28) opened the bidding process for the UK 14th Landward Licensing Round. Business and Energy Minister Matthew Hancock published details of how companies can apply for licences which will enable them to start initial exploration for shale gas. The licences provide the first step to starting drilling – but do not give absolute agreement to drill. On top of a licence, any further drilling application will then require planning permission, as well as permits from the Environment Agency and sign-off from the Health and Safety Executive.
Applications for licences in the 14th Landward Licensing Round will be accepted up to 2.00pm on the 28th October 2014.
Communities Minister Lord Ahmad of Wimbledon also made clear the Government's approach for unconventional hydrocarbons by providing some additional planning guidance for:
Areas of Outstanding Natural Beauty;
World Heritage Sites;
National Parks; and
The Broads
To be certain that this guidance is being applied, Communities Secretary Eric Pickles will give particular consideration to recovering planning appeals arising from these types of developments for at least the next 12 months. DECC will also require detailed Statements of Environmental Awareness to be submitted with licence applications to these areas, to demonstrate applicants' understanding of the environmental sensitivities relevant to the area proposed. Unless DECC is satisfied with the Statement the application will be rejected.
Business and Energy Minister Matthew Hancock said:
'Unlocking shale gas in Britain has the potential to provide us with greater energy security, jobs and growth. We must act carefully, minimising risks, to explore how much of our large resource can be recovered to give the UK a new home-grown source of energy. As one of the cleanest fossil fuels, shale gas can be a key part of the UK's answer to climate change and a bridge to a much greener future. The new guidance published today will protect Britain's great national parks and outstanding landscapes. Building on the existing rules that ensure operational best practices are implemented and robustly enforced. Ultimately, done right, speeding up shale will mean more jobs and opportunities for people and help ensure long-term economic and energy security for our country.'
Communities Minister Lord Ahmad of Wimbledon said:
'Effective exploration and testing of the UK's unconventional gas resources is key to understanding the potential for this industry – so the Government is creating the right framework to accelerate unconventional oil and gas development in a responsible and sustainable way. We recognise there are areas of outstanding landscape and scenic beauty where the environmental and heritage qualities need to be carefully balanced against the benefits of oil and gas from unconventional hydrocarbons. For this reason, I am today making clear our approach to planning for unconventional hydrocarbons in National Parks, the Broads, Areas of Outstanding Natural Beauty and World Heritage Sites. Proposals for such development must recognise the importance of these sites.'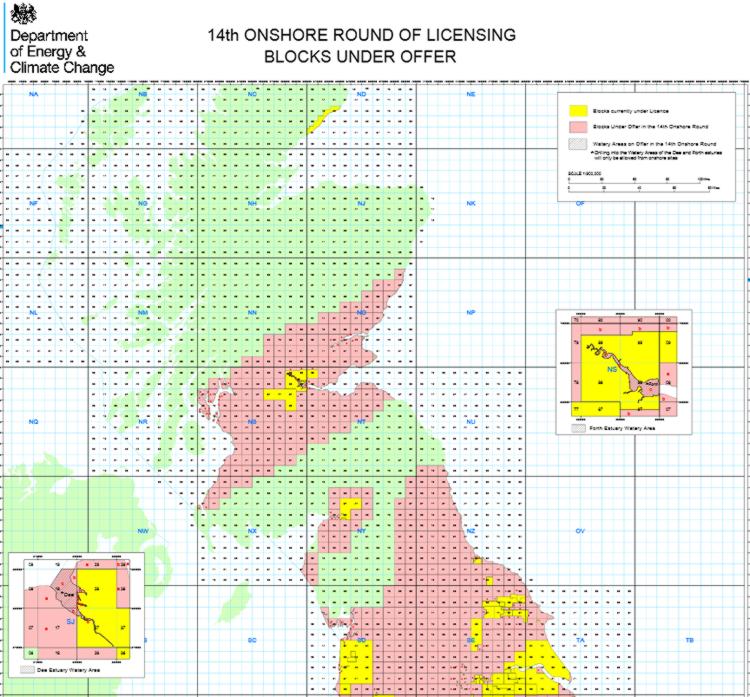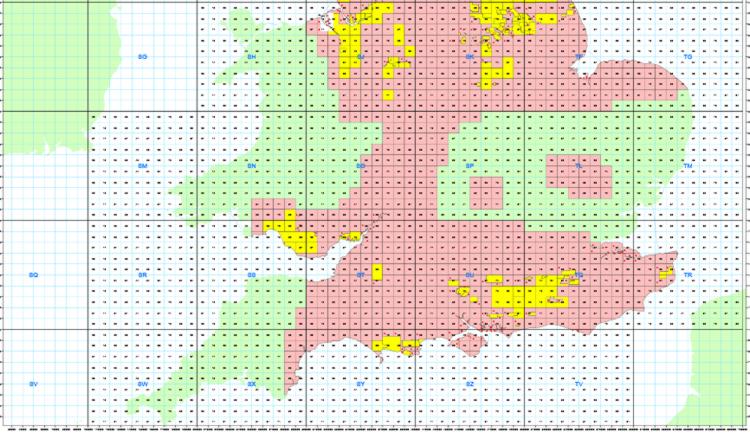 Click here for larger version of this map
Click here for full details of the UK 14th Landward Lisensing Round (with links to further information).
A map of the onshoe UK licence areas is available on GOV.UK
Source: DECC
Sign up for free daily newsletter
---

energy-pedia news is a FREE news service written and edited by E&P professionals for E&P professionals. We don't just report the news, we give you the technical background as well, with additional information derived from our unique energy-pedia opportunities service. Click here to sign up.
---
energy-pedia opportunities

energy-pedia opportunities currently includes comprehensive details of over 1100 upstream opportunities along with historic details of over 2,000 completed deals. Included are licensing details, current, future and historic, along with details of 1000's of corporate and company deals. Also included are company profiles of over 1,500 upstream oil companies worldwide.
energy-pedia opportunities provides intuitive, interactive, real time online information updated on the hour, helping established oil companies to maintain and develop their upstream portfolios while enabling start-up companies plan and build successful worldwide businesses.
For further information click here: energy-pedia opportunities
news by region
energy-pedia world map movie
back to top